Thank you
Do you have coordinates for us?
@blackmoe , just received them.
38.779750, -3.388389
Next to a JYSK
Great.
Obviously, Manzanares will be 4 stalls for ever.
So this one is very welcome.
@S-19910 I'm glad to tell you are wrong


Manzanares had 6 stalls activated some weeks ago.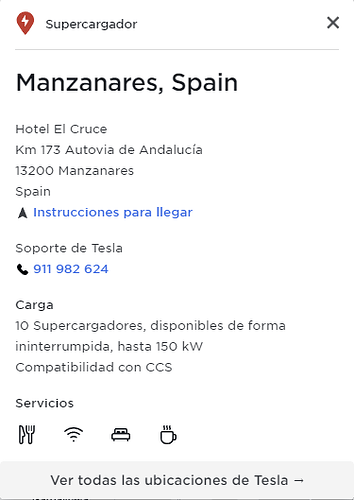 Therefore, there will be 2 SuC in just 20km. Very needed for the zone, as it is midway in the route Madrid - Málaga
More good news !
Thanks for the correction.
Haven't been to Mazanares since beginning of June.
The 6 unused stalls had the second (CCS) cable installed some time ago, so we were optimistic then.
But no change for long.
anyway, 10 stalls V2 @Mazanares + 12 stalls V3@ Valdepenas will easily get us from Madrid to Guarroman. (+Jaén IF not iced

)
And then Plaza Mayor (open) and Antequera (must be about to open, last time I was there all but the trashbins were installed) ! Happy Tesla Drivers !
If only Ramada @Getafe would come to their senses…