You have to look up the power values in the in-car map. The website list all V2 Superchargers as up to 120kW even if they are slower like Bersteland, Germany or faster like most other locations.
Mt. Shasta, CA (134 Morgan Way) has a discussion link that points to a thread in the Supercharging & Charging Infrastructure section of TMC. I just merged that thread to the canonical thread on TMC for this Supercharger, which is here:
I put a redirect in place so that the link from supercharge.info still works but it might be good to update the URL in the supercharge.info database.
Thanks!
Bruce.
The following superchargers are now 150 kW capable and need to be updated:
Somerset, PA
North Huntingdon, PA
Cranberry Township, PA
Strongsville, OH
Maumee, OH
Mishawaka, IN
Done, thank you pvmoceri!
Several new locations now exist on Tesla's coming soon map and a handful match up with supercharger locations in progress on supercharge.info. I got the list the list of new coming soon locations here: https://teslamotorsclub.com/tmc/posts/4353042/ And I created my own list of supercharger sites without a Tesla site/URL ID based on here: https://supercharge.info/service/supercharge/allSites
I didn't check if existing supercharger locations in progress point to these, plus if Tesla used a name of a neighboring city, they won't be shown here. Anyways here's the list of supercharger sites that probably need location IDs added:
Ashburn, VA
Chestnut Hill, MA
Deerfield Beach, FL
Fishkill, NY
Florence, KY
Flossmoor, IL
Lisbon, CT
Michigan City, IN
London - InterContinental O2, UK
Does supercharge.info try to follow Tesla's Supercharger site names? If so Tesla's official (Nav) name for this site is North Greenwich, UK.
Personally I'd add in London (i.e. "London - North Greenwich, UK"). On Tesla's website they are horribly inconsistent with London site names:
London - Canary Wharf, London - Tower
but also
London-Heathrow, London-Westfield (aargh different spacing around the hyphen!)
and now
Park Royal, North Greenwich (no mention of London!)
Heathrow really makes my eye twitch as, on the Tesla website, there are two sites called "Heathrow" (Heathrow Hilton Terminal 5) and "London-Heathrow" (West Drayton SC).
Perhaps the Nav names are more consistent - I haven't done a check myself…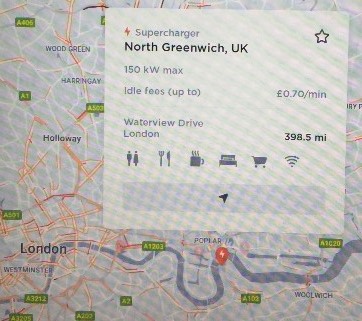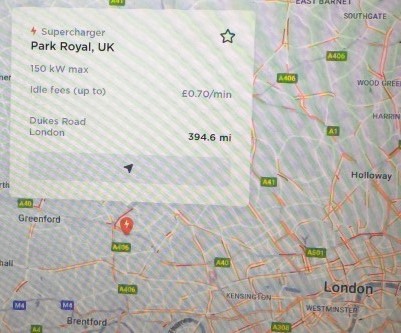 Membury Services Eastbound, UK
[Note I edited the coordinates shortly after first posting this message as I accidentally pasted in the westbound SuC location!)
This site has 6 stalls but supercharge.info incorrectly reports 8. Also the pin location is slightly wrong - I'd put it at (51.4839, -1.5568) (it's in a small area behind the main services building, half way between the main car park and truck park). The attached photo is from the Superchargers app - I have visited the site but don't have a picture of my own.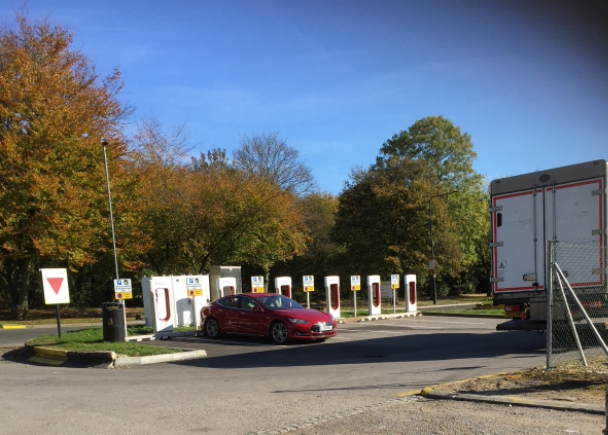 Membury Services Westbound, UK
The location of this Supercharger is slightly inaccurate. I'd put it at (51.4813, -1.5561) - it's at the north end of the main car park, arranged in two rows of four facing each other, near the car park exit on an area that was formerly grassed over. At time of writing google Street View shows the Supercharger if you zoom to street level immediately outside the entrance to the service building:

@cezdoc - Thanks for the corrections. I've updated the coordinates and stall count for the Membury locations. The North Greenwich name has been corrected as well, I had added that one to supercharge.info before Tesla had listed a name for it anywhere.
Hello. The new supercharger location at Wareham, MA says there are 5 stalls – but the pics and discussion seem to indicate 12 stalls. Thanks.
Manchester-South (SC) - UK
Initially this site was restricted to Service Centre opening hours, but I'm pretty sure it's now 24 hour access. Also the site power is 150 kW (it's currently down as 120 kW).
Evidence:
Now appearing on in-car Nav - which confirms the max power available;
Tesla have updated the site information on their website to indicate 24/7 access: https://www.tesla.com/en_GB/findus/location/supercharger/manchestersouthsupercharger ;
I've seen discussion on the UK owners' Facebook group saying the entry barrier has been moved to allow access outside office hours.
I've asked for confirmation here:

The Nav screenshot in my post confirms the max power available.
As per the TMC post, note that the Nav shows six stalls available but there are only four available externally (i.e. supercharge.info already has the correct total).
Thank you for letting us know. The suggested changes were done.
Please note, the Skei, Norway supercharger is listed as max 135 kw, but on Tesla.com it is listed as 150 kw.
Please note, the supercharger station in Töcksfors, Sweden is listed with 12 stalls. It has been expanded to 20 stations some time ago.
Please note, the Gol, Norway supercharger is listed as max 135 kw, but on Tesla.com it is listed as 150 kw.
Please note, only the values from the in-car map are relevant. The value from the website means nothing. Tesla just changed every site on the website to "up to 150 kW" (in Europe?) recently even sites that are just working at 100kW.
It'd be good to have a new status of "Additional" or similar for when locations get expanded.
Currently, "London - Westfield" has
Fri, Oct 17 2014 update 24 stalls 150 kW
Which is a bit silly, there were only 24 Teslas in the UK at that time. (There weren't but you get the picture.) The true history isn't available.
I didn't spot this change and don't know when it was expanded.
In this case just click on the forum/discuss link, if you want to know when the update was reported.
Well the site is in need of some very important changes, but Keith the programmer and owner has it made his priority to program his offspring to be working members of society rather than to program this site. So do not expect that feature soon.
Tsk, priorities.