It looks like that one is already there - but needs a bit of an update (co-ordinates, name, stalls) - I will fix it up.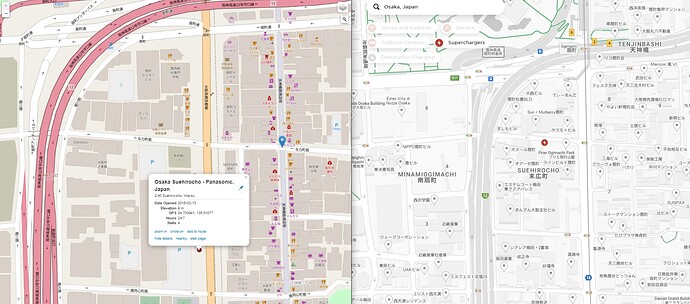 Do you mean the one from 2015?
Osaka Suehirocho - Panasonic, Japan
That now looks closed (Find us page missing now, etc) and should probably be marked as such.
This is a new one in a new location nearby.
Yeah it looks like it. It could have just been a station relocated to another position on the same property… but if you zoom right in to the pic you can see a stall has a "2C" label so it's V3, wouldn't use any of the same gear
I'd ordinary edit the old entry, but I'll mark the old one as closed and create a new one.
Not sure how long it's been like this - I usually do a side-by-side visual comparison of Asian sites every week or two - I wouldn't have picked up on this since they are so close! TeslaCharging twitter can be a few weeks delayed too (they like to spread out their announcements so it's a relatively steady rate of posts)
I just presumed they would be V3 (as they were new and in 3's (nearly all Asian V3 are in 3's like the US/Europe are in 4's I guess the power cabs are designed for that over there) ) but yes I should have zoomed in more to be sure.
I too look out for some of the Asian/rest of world where there are unlikely to have people on the ground updating them. Also some of these have been expanded now and are even trickier to see, I might go through them in more detail…
and then there is China where we are now missing a year or so worth! (but that is a much bigger project to tackle…)